You can't protect a chicken's egg because after laying an egg it pecks that egg. For this reason, most of the time, you can't have egg production anymore.
Are you bored of collecting the eggs that are mixed with chicken excrement? In this situation, are you searching for the perfect nesting boxes for chickens?
Are you also searching chicken nesting boxes with egg drops for easy egg collection? I think you have come to the right place for getting the right nest box for you.
In the last part of this post, I will also give some notes about these boxes that you really need to start a proper business.
So keep reading …
At first, I also knew about traditional chambers for the production of chicken eggs. But in the traditional method, eggs are not fully protected. Some eggs are broken.
After knowing some more information, I have learned about the new egg rollout nesting box which has more facilities.
I have also noticed that some professional farmers are also using these boxes for proper maintenance.
Finally, I have chosen two chicken nest boxes that you can try, if you don't have any time for researching your required nest box.
Selected Product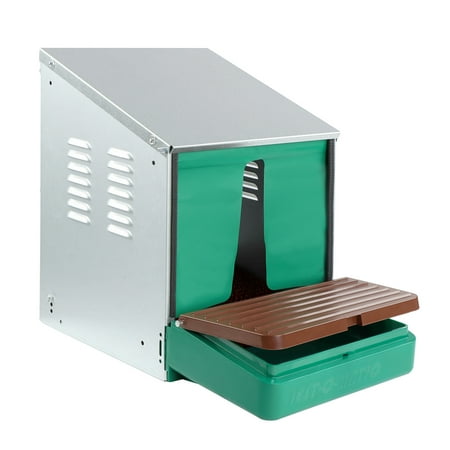 Selected Product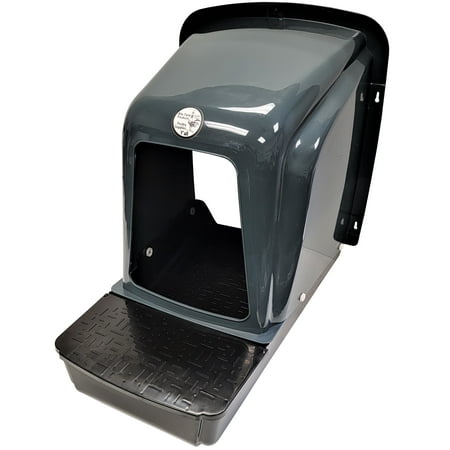 Roll Away Galvanized Metal Chicken Nesting Box
Though this nest box has a little limitation, it still stands in a strong position in the marketplace. It has a special feature. Eggs automatically roll out and store in a secured place.
After storing eggs all day, you can easily collect these eggs below the secured lid. This new design is preferable for all poultry birds during laying eggs.
The structural body of these boxes is strong because it is made of metal with galvanized steel. So the durability is also high. There are many holes available for easy air flowing. This system will keep the hen comfortable.
The washable tray of these boxes is rust-free because it is made of plastic. You can also easily clean this tray. When you start to set up the parts of this nest box, you will get nuts and bolts in it. According to the guideline, you can easily assemble these boxes.
The total measurement of this nesting box is 31.5 inches (long), 19.5 inches (width), and 20 inches (high/tall). So you don't need a huge place to install it.
Pros
Eggs are allowed to roll out in the safe place
Cons
The separate tray is not available
Runner Up and Alternative Nesting Box
Laying Chicken Nesting Box
It is ideal for homegrown farms, especially for hobby farmers. There are included wood chips that stop the eggs from rolling for practicing chickens laying in the nest box.
There is an included rollaway egg tray that is tilted (required angle) and it allows the eggs to roll out automatically to the safe store zone. So it also cleans eggs from chicken excrement.
You can then collect eggs from that zone (protective egg collection tray) at any time. There are included ventilation holes for quick air circulation in this egg-laying place.
The lid doesn't allow the chicken to pee on the eggs all the time. By following the given guidelines, you can easily assemble the nesting box. You can clean it in a short time.
You can remove the lower tray for a regular wash. For strong body structure, it is durable for long-lasting. You can close the opening door by the tray. So chickens can't enter this nest box all the time.
Pros
Eggs are allowed to roll in a protected place
The lid is included for covering eggs
Cons
Not available various color
Factors You Need to Know Before Buying Nesting Box
1. Construction Materials (Nesting Materials)
Normally good wood material is used in chicken living areas. If the material of the nest box is made with metal then its durability will be high.
So you should choose the better construction design (metal poultry nest) of a chicken egg nest box with egg drop. The roof of it should be well designed. It will be better if the hen nest has an inclined roof. Here, the suggested construction of nesting boxes are built with metal
2. Size
The size of the nesting box is also an important factor because it depends on the number of chickens you have. There are small chambers in the hen nest.
So think at first how many chambers do you need, then decide the required nest boxes. There are available different sizes of nest boxes in the marketplace. So check the required size before collection.
3. Egg Protection (Egg Guard)
Without using a nest box, you can't fully protect eggs. Because eggs may break for some reason. Such as sometimes chicken pecking on the egg.
Besides dust or chicken excrement may contact the eggs. So the good idea is that you should use a proper nesting box for chicken.
4. Easy to Clean
Regular cleaning of the wooden nesting boxes may create moisture. On the other hand, metal nesting boxes don't create moisture after water cleaning. So think at first which type of hen nest do you need?
5. Budget
There are different types of nest boxes according to budget. So you need to decide what type of hen nest that you need according to budget
Use of Chicken Nest Box
It is used for only nesting (laying eggs). It is not for the sleeping of chickens. They live and sleep in the main chamber in the coop.
When any chicken needs to lay an egg, then it comes into the egg-laying place. Nesting boxes for chickens should be set up one foot or more than one foot off the ground.
The roasting place is situated in the main chamber. So you should keep alert so that any chicken doesn't spend all its time in the egg-laying place.
Training Chicken to Lay an Egg in the Egg-Laying Place
If chickens don't find any hidden place, then normally they lay eggs everywhere, especially in the field. So to protect this chicken habit, you should follow some steps.
First, you should do some work for introducing the nest box to the chicken. Now I am giving you some notes for encouraging chickens to lay eggs in your collected hen nest.
Note 1: Clean the Egg-Laying Place
Chickens always like neat and clean areas where they are interested in laying eggs. So clean properly after collecting it.
Note 2: Keep Straw in the Nest Box
When chickens see that the egg-laying area is ready with a straw bed, then chickens are interested to stay in those boxes.
For this, you should collect some fresh and dry straw or wood shavings and keep them in those boxes. For easy cleaning, you can set washable nesting pads at first, then use some straw on those pads. After doing this, you can remove these pads and wash them easily.
Note 3: Put a Fake Egg
This is an excellent way to keep a fake egg in the nest box. Now the question is how to collect fake eggs. Ok, now I am telling you the way. You can use a golf ball as a fake egg.
Now you may have a question: When should you place a fake egg in the egg-laying place?
In the daytime, normally chickens lay eggs.
You can do it at night time when chickens are sleeping in the roosting area.
You need to do it one time. After laying an egg, you will take a real egg and you always keep a fake egg in that egg-laying area.
Besides, you can use other balls that are the same size and color as a chicken's real egg. When any chicken sees that there is an egg in the egg-laying place, they take it more positively for laying eggs on a regular basis.
Note 4: Set Nesting Box Above One Foot off the Ground
When a chicken sees a nest box is up from the ground, then it feels more secure and interested to lay eggs in it. But you shouldn't set it upper than two feet high off the ground.
Note 5: Use the Actual Number of the Nesting Box
You should have a plan about the quantity of the nesting box vs the quantity of chicken. If the amount of the box is low, then chickens may battle with each other. So you should keep alert about this situation. But you may have a question at this time.
How Many Chickens do You Set Per Nesting Box?
Ok, this is a good question about that ratio.
Normally you can set four to six chickens per nesting box. (source)
At this measurement, you should need one nesting box for 4 chickens and three nesting boxes for 10 chickens.
But it may vary in your current situation. So you should focus on this situation and take a measurement or idea about how many nest boxes that you will need.
There is another way that you can try. Sometimes, you may lock chicken in the nest box sometimes for a few days. When chickens have learned this lesson about laying eggs in it, then automatically they use those boxes.
Why Does Your Poultry Nesting Box Look Dirty?
At first, you should think that using the egg-laying box for a chicken as a sleeping room is ok or not. Actually, it is not ok for chickens to stay in it all the time.
Because when they are passing all the time in there, they can poop in that place. This is not good for you.
Besides, Dangerous bacteria or germs like salmonella are created quickly in that hen nest. This is the reason why the production of chicken's eggs may be hampered in unhealthy conditions.
Now the question is how to stop chickens from pooping in that place.
Don't worry about this unhealthy situation. There is also a point that you may follow if you want to stop poultry birds from pooping in those boxes.
Point: Don't allow chickens for sleeping in the egg-laying place
Nesting boxes are not ok for chickens for sleeping or resting. Only they can stay there when they are laying eggs. The other time they will stay in the roosting area. If any chicken stays in this egg-laying place all time, especially in the nighttime, then there is more possibility to poop in that place.
Now what to do to avoid this situation. To solve that issue, at first, you should set the nesting door.
Don't allow chickens in those boxes at night time. For this, you can close the nesting door when required. You can block the doors of those boxes with door blockers or other boards.
Some More Other Reasons for Quick Dirty of Nesting Boxes:
1. Small Roost Size
When the roosting place is very small according to the quantity of chicken, then some chicken goes to the egg-laying place for staying. You should be careful about that.
Keep enough roosting size for your poultry birds. You can attach roosting bars in the open space so that they can use that bar.
Now you may have a question about what is the roosting size needed per chicken?
Normally 10 to 11 inches (length) of roosting place is needed per chicken. If you can ensure enough roosting places for poultry birds, then chickens have no interest in staying in those nest boxes all the time. As a result, those boxes will not become dirty quickly.
2. The Height of Roosting Bar
Normally chickens like to stay in an upper place for safety.
If the roosting bar is not high against the nesting boxes, then the chicken automatically wants to come into those boxes. So the better solution, you should set it lower to the roosting bar.
Note: the roosting bar should be higher than the nest boxes.
If you can do this, chickens will feel safe staying at the roosting bar most of the time.
3. Illness
The sickness of chickens may be an issue. They may get leg injuries. Basically old chicken may have leg injury for maximum cases. This is the reason why they don't climb in roosting bars.
So an automatically injured chicken wants to stay in the egg-laying place all day. In this situation, you should check the physical condition of all your poultry birds. If you find any sick chicken, then take urgent action.
So you should focus on all these three issues for solving this situation.
How to Prepare Nesting Boxes at Home
If you don't collect it from the marketplace, then you can also prepare it at home. But you can't get the maximum facility from your homemade nesting boxes.
However, for preparing this box, at first, you need a thick paper, plastic, or metal box. As for the number of chickens, you should collect those boxes.
Take a size measurement from a chicken. Then collect the box according to that size. After that, keep some straw or wood dust in that box. Now, it is ready for the chickens.
By doing all these steps, you can prepare a basic and normal level nest box for chickens.
My Viewpoint on the Nesting Box
In summary, I just want to say that nesting boxes are important for you if you are really thinking about the new start poultry business. If you have a budget problem, then you can make it in your home.
But if you collect it from the marketplace, you will get the extra facilities from it. So I think you should collect the right hen nest which allows the eggs to roll out in a store zone automatically.
It will be better for you to know the basic idea about these boxes before collecting. So I have also tried to share some factors that you must know before purchasing any hen nest.
You should read those factors about chicken nests that I have mentioned at the top portion of this post. I have also tried to share some more information about this poultry box.
By reading this information, you can get a basic idea about how to practice chickens to lay eggs in those boxes. You can also know why any nesting box becomes dirty so quickly and I have also told you how to solve that problem.
Regular cleaning of the hen nest is also a matter if you want to keep your poultry birds healthy. So you should be focused on collecting the nest box which has an easy cleaning procedure.
You should also check the holes with swing perch or hinged perch before collecting these boxes. Egg drop nesting boxes can be a better choice for you because it really saves your valuable time.
So think, at first, and then decide which one you should collect, with or without egg drop nesting boxes? If you have some more time, then you can read the questions and answers about these boxes that are in the FAQ section.
Frequently Asked Questions About Nesting Box
What is the Reliable Bedding Material for Nesting Boxes?
Metal nesting boxes have maximum durability for any weather condition. Besides, you can use wood material for it. But the quality of wood material must be higher.
In the marketplace, there are fewer available wood nesting boxes. If you really want to use a nest box for a long time, my suggestion is that you should use a metal egg-laying box for getting more facility.
When do Chickens Always Lay Eggs? Day or Night?
All chickens are resting at night time. So automatically they have no habit to lay eggs in the night period. In the daylight before afternoon, chickens lay eggs.
They wake up early in the morning and sometimes some of them lay eggs in the morning too. But be sure that they don't lay eggs in the nighttime if there is not an accident.
Why do Chickens or Poultry Birds Lay Eggs in the Same Nesting Box?
Actually, chickens always find safe places to keep their eggs safe. So they think that in the same nesting box, all of the eggs will be safe. Maybe they have understanding in their group.
But this is not happening for all chickens. Some chickens kick out another chicken's egg and then lay an egg and keep it in the nest box. In this situation, you should use fake eggs in those boxes.
Daily collect original eggs and put that fake egg in those boxes. Thus you will benefit if you follow this method.
Is There Any Time to Open Nesting Boxes?
Normally when the chicken comes to the age of 16-17 weeks, then you can ready a nest box for laying eggs. But you should not allow them in it all the time.
Close that box after the afternoon and open it in the early morning. In the nighttime, their chickens don't need that box because at that time they will take a rest in the roosting place.