Have you thought your poultry birds need warmth in the winter season? These birds are suffering from cold air all the time, especially in the sleeping time but these birds can't share this problem with you.
In this situation, you should feel their problem. At the same time, you should also take a necessary step to warm the chamber of these birds.
Maybe some people say that poultry birds don't need any extra heat. Because their body automatically produces the required heat. But here I want to tell you that actually poultry birds are living creatures.
They also need extra heat in the winter season. If the temperature certainly drops below freezing, then of course you need a heater for the chicken coop.
Are you taking a rest in the warm room but now you want to keep the poultry bird warm. Already you have installed a heat lamp in that area for them.
But the problem is that you suffer from more extra electricity costs. Now you are searching for another alternative way for low electricity cost.
Yes, I think you have come to the right place for finding the right poultry heater which gives warmth at a low electricity cost.
First, I have knowledge about traditional coil heaters. But traditional healers have lots of problems. Such as firing issues, heating temperature up-down, and risk of the electric cord.
To remove these problems, I again started to find another alternative solution. After searching with time, I found a required heater which I wanted.
If you don't have any time, then you can try this device. Before collecting, you should read cozy coop heater reviews. Otherwise, you can collect reliable devices from any marketplace.
Best Pick: Cozy Coop Heater for Chicken Coop
It is better than other normal heat lamps. The cord of this heater is not dangerous for poultry birds because it has a safe insulation cover. If any chicken pecks this cord, then there is no problem.
Selected Product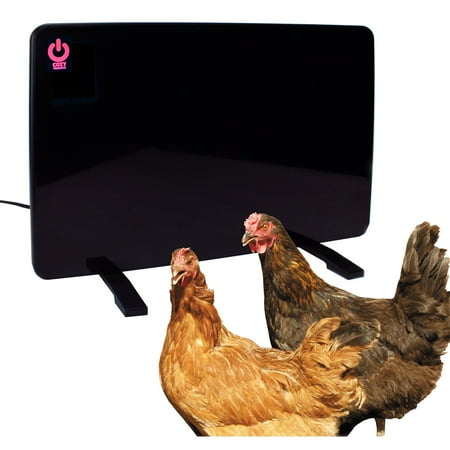 This device generates heat by convection and gradient method. That means heat can flow through metal to air. So generating heat from this device can easily spread near the area.
It doesn't produce excess heat. When any chicken stands near this device, that bird feels happy in the winter season. It is also an energy-saving (energy efficient) heater. It saves up to 83% electricity in comparison to other electric heaters or lamps.
If normal lamps use 1500 watts, then this heater uses only 195-200 watts. Switch (on/off) is included for easy maintenance. It doesn't create any sound. So your birds stay with it in silence. The design of this device is also fine.
Pros
The electric cord is well protected and peck proof
durable
Cons
Runner Up and Alternative Chicken Heater
Magicfly Radiant Chicken Coop Heater
Here, I am also giving you one other alternative heating device which you can try, if you don't get the first one.
It has a remote control system and temperature display unit. By using this remote control, you can easily set the temperature without touching this device.
So I think this device may bring a big change to your poultry farm. It has the UL certification for the safety of the birds. So you can keep it in the coop or other places where the poultry birds live.
It can save almost 90% electricity and use just 165 watts where other lamps need around 1500 watts. So I think this issue gives you a special facility for saving electric costs.
It has also another special design: the automatic power-off system. When this device accidentally falls down to any place, then it automatically turns off its power.
For this advanced function, you can be safe from any dangerous accident.
When any bird touches the button of this device, then that button will not work at that time. Because this heating device has a button lock system for safety.
You can set it at any place and at any position. Two stands are available in this heater.
You can easily install these two stands in it. By using these stands, this device can stand on any flat surface strongly.
Pros
Temperatur can be set by remote control
Available automatic power off system
Cons
It has no solar setup system
If you don't want to collect any type of heating device for pets, then you may choose a poultry heating pad from the market.
How to Operate this Remote-Controlled Heater
To operate this heater is not complicated work. Before using the remote control, you need to adjust the battery in it. It's an easy task to adjust the battery and you can do it.
Besides, some points that you need to know before operating this device by remote controller.
Point One: For turning on and off the heater, you need to press the on/off button of the remote. If you want to turn on the heater, then you need to press the on button and hold it for two seconds.
After doing that you will be able to turn on the heater. On the other hand, if you want to turn off that device, then you need to press the same on/off button and hold it for two seconds.
Thus you can turn on and off the device by remote control by following this instruction.
Point Two: For temperature settings, you also can do it easily. You will see that there is a plus and minus button on the remote control. For increasing the temperature, you need to press the plus icon.
For decreasing the temperature, you need to press the minus icon. You can increase or decrease 2-degree temperature per one press. The maximum temperature range of this heater is 160 degrees Fahrenheit and the minimum temperature range is 130 degrees Fahrenheit.
Just you need to adjust the required temperature by pressing the temperature icon of that remote controller.
Point Three: If you want to lock the required temperature setting that you have done, there is also available the setting of temperature lock. If you press the two buttons (plus and minus) for two seconds, then the function of the button setting is closed and automatically the screen display of the heater will shut down.
If you want to unlock the temperature setting, then again you need to press those two plus and minus buttons for two seconds. Then automatically the button function and the display monitor of the heater will open.
Factors You Need to Know Before Buying a chicken heater
1. Electric Certification
Before collection of any electric item, you should check certification if you can. The good news is that here the suggested chicken coop warmer has an ETL(Electrical Testing Laboratories) certification for poultry using purpose.
2. Electricity Save
You should choose any item which gives you a low electric cost. In the case of the heater, you can collect energy-saving (energy consumption) heaters. Here the suggested device saves electricity up to 83% ( 195-200 watts) while other heat lamps for brooder lamps need 1500 watts.
3. Physical Size
Normally the small size (around 19 inches in length and 13 inches in width) of the radiant heater is enough to warm the poultry house. If you can collect it, then you can also use it in any area where you choose.
4. Capacity
You should need to know the capacity of the heater before purchasing. According to the number of poultry birds, you need to make a plan at first, then decide what type of quantity of heater you need.
If you collect a cozy coop heater which is around 19 inches, then you can cover 19 inches of space. To measure the total space of the poultry farm at first, then calculate the number of heaters you will need.
5. Cord of Heater
Remember, the electric cord of any heater must be protected. Because any poultry bird may peck the cord. This is the reason why any accident may happen there. So you should collect the right heater with a good electric cord switch.
6. Budget
Create a well-planned budget for collecting poultry heaters. If you are thinking of starting a small poultry business, then you must need a poultry heater in that situation.
How to Keep Birds (Chickens) Warm in Winter?
If the poultry birds don't get sufficiently warm in the cold season, then automatically they decrease laying eggs. So by ensuring proper heat in the coop, can be a solution to remove this problem.
In this situation, you should collect the right device for the distribution of consistent heat (consistent warmth) output. Besides, there are other ways that you can follow, if you really want to make your bird's room more comfortable.
So now I am sharing some notes that also follow professional poultry farmers for keeping the coop warmer.
Heat Poultry or Chicken Coop Without Electricity
Here are some notes that you should read if you have enough time and want to heat your chicken coop without electricity.
Note One: Fill a Large Hole or Gap in a Coop
If you have a new coop or poultry chamber, then you don't need any tension about the hole. But if your poultry coop is old enough, then you should do some work.
Check the total area of that old coop and find the big size hole. After finding these gaps, fill these anyhow.
Remember, you should not block the very small holes because a proper and adequate air ventilation system is needed in that coop.
After doing this, you will be able to stop the flow of cold air in the coop. If you are able to block that cold air, then I think that coops don't easily decrease the temperature in the winter season.
Note Two: Use Deep Litter Method (if Possible)
Increasing the floor layer with repeat spreading of straw, wood dust, or other fiber in the poultry floor is called the Deep Litter Method. You can create extra insulation by preparing deep litter method. (source)
When chickens poop in the floor straw, then this poop mixes with the floor straw and creates a heat insulation floor layer.
N.B: You don't use cedar shavings for increasing the floor layer because this shaving is harmful to poultry birds.
After creating the floor layer, coop temperature is not reduced easily. Traditional farmers use this method.
If you have a wood floor or lifted coop floor, then you don't need to follow this method. Just you need a proper heater for birds.
Note Three: Use Sunlight in the Daytime
You can cover the coop or the poultry house with plastic. As a result, sunlight will enter the plastic and chicken house but the creating heat can not come out of that house.
Because at this time plastic will block the room heat to transfer like the greenhouse effect. If you are a science student, then you can understand this method easily.
But if you are not a science student, then you don't need to be upset. You can get help from other professionals because this method is not complicated.
After applying this method, you can store some heat in the chicken house. So at night time that house remains some heat which needs the chicken.
Note Four: Use Enough Roosting Bar
When all chickens climb in the roosting bars, they take a rest group-wise in those bars. Chickens gather in those roosting bars and sit in bars for maximum time.
This is the reason why heat is produced from their feathers and they also get warm. So my suggestion is that you should create enough roosting places and place required roosting bars in that place for your birds.
Note Five: Feed the Chickens in the Evening Time
If the stomachs of chickens are full at night time, then their body will be hot for digestion. So you can feed them before going to sleep especially in the evening. Then their body will be prepared to stay at night in the winter season.
Note Six: Use the Toy for Poultry Birds
Like humans, they also need refreshment. They may go crazy in the winter season. If they play with any toy, they will be happy and their body will be prepared to stay in the cold season.
I think you have read all these notes and will try to implement them in the coop for giving chickens some warmth.
My Viewpoint On the Chicken Heater
In summary, I want to say that of course, you need some basic ideas before collecting heaters. For this, here I have tried to share some factors that you really need.
If you want to save more watts of energy (electricity costs), then you need to choose an energy saver poultry heater from the marketplace. If you don't have enough time for searching for this type of heater, then you may try the suggested two reliable heating devices in this post.
I have also shared with you the other ways (without using a heater) for giving warmth to your poultry pets. You can try these ways if you are really interested in them.
So finally I want to tell you one more thing. If you have some more time, then you can read the questions and answers( given FAQ section) about poultry heaters.
Frequently Asked Questions About Chicken Heater
What Temperature Should You Use for a Chicken Heater?
If the temperature goes around 100 degrees Fahrenheit or more, then it is harmful to chickens. So you should be alert when you use the heater. You should set the temperature of this device according to the cold weather in your area.
What is the Safest Heater for Chicken or Poultry Birds?
The heater which includes a safe electric cord, no sparking issue, no heat temperature down, on, off switch, A well-designed internal thermostat, is called the safest heater. It also depends on the quality material of any chicken coop heater.
What Cold Temperature is Very Cold for Chickens?
Some experts say that chicken can tolerate below-freezing temperatures. But you should not keep them in that temperature for their life. Normally they get bothered at the temperature below 70 degrees – 75 degrees Fahrenheit.
When Should You Use Chicken Heaters?
If regular pressure drops below freezing in your area, then you need to add extra heat to chickens by using a heating device. Otherwise, they have the capability to manage their body, if the temperature goes up and down above the freezing level.
Can Chickens Sleep or Stay Outside in Winter?
They can stay outside because they have the capability to manage their body in cold areas. But they don't like to stay outside in the cold season. In excess cold weather, it will be better if you will add supplemental heat (additional heat) source for chickens.
Can All Chickens Freeze to Death?
If your poultry house is not properly set for the winter season and some of your chickens are weak, then the answer is: chicken or poultry birds can freeze to death.
Normally chickens don't freeze in cold weather. They have a protection feather that helps the chickens to stay in the cold season. But excessive cold may harm the chickens seriously.
Where to Place the Heater in the Chicken Coop?
You should place it at the place where the chickens stay maximum times. In the roosting place, they pass their maximum time. So keep the heating device near the roosting place while choosing a proper location.